---

12.08.2007 - 5:55:00 PM - UFC strips Sherk of Lightweight title

According to Dave Meltzer the UFC has stripped Lightweight Champion Sean Sherk of his title because of the CSAC's decision to uphold the suspension.

Does that mean that BJ Penn vs Joe Stevenson at UFC 80 is for the lightweight championship?

Labels: MMA, Sean Sherk, UFC

.tanner - 0 comments - Post a Comment
---
---

12.04.2007 - 11:48:00 PM - Sherk's suspension reduced
Sherdog.com broke word that Sean Sherk's suspension has been reduced to six months by the California State Athletic Commission following his appeal hearing today. Sherk will be eligible to fight in January.



Labels: MMA, Sean Sherk, UFC
.tanner - 0 comments - Post a Comment
---
---

11.13.2007 - 7:13:00 PM - Sherk could be stripped of the title; Couture offered fight against Big Nog
The UFC held a press conference on monday promoting UFC 78: Validation. I didn't hear much in the way of UFC 78 but there was some interesting news to come out of the press conference. Dana White had originally said that Sean Sherk wouldn't be stripped of the title but later back tracked on those statments according to MMA Weekly:


In announcing the interim title fight, White stated, "The belt can't be in limbo for this long. I've said since the beginning that I believe in Sean Sherk, but we have to support the athletic commission in whatever decision they make."

He added to that during Mondays conference call.

"B.J. Penn and Joe Stevenson are going to fight for the interim title. We'll see what happens with Sherk. If Sherk is found guilty, we'll support the (California) State Athletic Commission and he'll probably be stripped of his title. If not, then he'll keep his title and it will be champion vs. champion."
Here's the info on the Randy Couture situation:


If that weren't enough, the UFC has also had to deal with the discord with its heavyweight champion, Randy Couture, who suddenly "resigned" from the promotion in early October.

Following several public statements and presentations from both sides expressing disappointment over the situation, recent speculation is that Mark Cuban's new fight promotion, HDNet Fights, has offered Couture a position within the company and that he is close to, if not already, accepting the offer.

White however, indicated that the UFC has offered its champion a title defense and is awaiting a response.

"We officially offered it to him and we haven't heard back yet. We should know this week. He (sent me a text message) yesterday and said he wants to sit down and talk." Asked if there would possibly be an interim belt issued for the heavyweight division as well, White was emphatic that would not happen.

"No. Randy's going to make a decision one-way or the other. We're going to get together next week, I think, and talk and see where we're at."

Labels: MMA, Press Conference, Randy Couture, Sean Sherk, UFC, UFC 78
.tanner - 0 comments - Post a Comment
---
---

11.09.2007 - 9:03:00 AM - Sean Sherk hearing postponed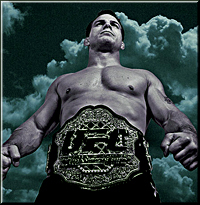 The Fight Network is reporting that Sean Sherk's appeal has been postponed again and this time until possibly December 4th. Here's what they had to say:


The California State Athletic Commission today confirmed the postponement of UFC lightweight champion Sean Sherk's Tuesday, Nov. 13 appeal hearing for a steroids-related suspension. CSAC associate governmental program analyst Bill Douglas cited scheduling conflicts as the reasons behind the delay. The hearing has not yet been rescheduled, though Douglas said a replacement date for Tuesday, Dec. 4 is likely. To hold a CSAC meeting, a quorum of five of the seven board members must be present
Sherk recently had an interview with MMA Weekly where he talked about the interim lightweight title and the appeal with the CSAC. Here's a little snippet of the article:


"It makes me real angry," said Sherk about the appeal process with the CSAC. "They had a lot of time to prepare for my case and they weren't prepared and now I'm the one suffering for it. I'm the only one suffering in this whole situation. I mean, I'm sitting here and I feel kind of helpless.

"I'm in the hands of the California commission and I don't know if they're not taking this case as serious as they should or what the deal is, but it's real, real frustrating for me."
He also had the following comments about the interim lightweight title:


"To be honest, even an interim title doesn't make me too happy," Sherk said emphatically. "This belt hasn't been taken away from me, it's still my belt. If I get cleared from my hearing to fight, I'm eligible to fight right now, so I don't think that the idea of an interim title... it doesn't make me too happy. I'll just have to fight whoever wins that fight."

"If somebody wants to wrap that belt around their waist and call themselves champion, I think it should be me. Otherwise, it's just a little fake belt."


Sherk's gone through a lot of shit to try and clear his name and I think i honestly believe he didn't knowingly take steroids but the simple fact of the matter is that he tested positive for steroids. If appeal causes the suspension to be lifted then yeah the interim title is stupid, but if he's found guilty and has to serve a years suspension then there should definately be a interim lightweight title, well Sherk should be stripped of the title anyways, but thats another point.




Labels: Interview, MMA, Sean Sherk, UFC
.tanner - 0 comments - Post a Comment
---
---

11.01.2007 - 1:51:00 AM - Sean Sherk's suspension appeal postponed again until Nov. 13th
Sean Sherk had a hearing today in front of the California State Athletic Commission (CSAC) to appeal the suspension handed down to him following his positive test for steroids after defeating Hermes Franca at UFC 73. Sherk has maintained his innocence from the beginning and has even taken a lie detector test and apparently passed when asked if he knowingly took steroids. Apparently this information and other information was submitted to the CSAC last week but none of the commissioners had seen it. The appeal hearing has been postponed again to allow the CSAC to review the information.

The worst part of all this is that it still leaves the UFC lightweight division and BJ Penn up in the air. BJ Penn is rumored to be fighting at UFC 79 but his next fight was also supposed to be for the lightweight title. Dana White has said he won't strip Sherk until the end of his appeal. The good news to come out of the hearing is that Phil Baroni's suspension was reduced to 6 months and is retroactive. He will be able to fight in December. This is also good news for Sean Sherk as he could likely have his suspension reduced and be retro active to July. He could possibly be ready to fight BJ Penn in January.
Labels: MMA, Sean Sherk, Steroids, UFC
.tanner - 0 comments - Post a Comment
---
---

10.14.2007 - 2:47:00 PM - UFC 78: Updated Fight Card
The UFC 78 card has gone through a lot of changes. Originally, Sean Sherk was supposed to fight BJ Penn for the Lightweight title. After Sean Sherk failed his drug test after UFC 73's win over Hermes Franca he appealed the Suspension. He has stated that he has never knowingly taken Steroids and is going to do everything he can to get of the suspension. He even took and passed a lie detector test to prove he didn't knowingly take steroids. With Sherk's appeal not coming until Oct. 31st therees no way that fight could happen. Especially if Sherk's appeal doesn't go through.

Needless to say theres been tons of changes and rumors about the main event we'll see at UFC 78. It was originally thought that Rashad Evans vs. Tito Ortiz would be the main event but that fight failed to materialize. Tito only has one fight left on his UFC contract and is in negotiations with the UFC owners for a contract extension. It was also even rumored that Tito could fight Dan Henderson. Although an intriguing match up it looks like we won't see Tito until early 2008. So while the main event has been in limbo, a few weeks ago I got a newsletter from the UFC stating the Main Event of UFC 78 would be none other than Ultimate Fighter 3 winner Michael Bisping vs Ultimate Fighter 2 winner Rashad Evans. This came as quite a surprise considering most fans thought Bisping's fight would be a rematch with Matt Hammil because of a largely controversial win at UFC 75. Rashad Evans was set to fight Tito again after their draw at UFC 73. This main event came as a surprise to me to say the least.

This hasn't been the only problem with UFC 78. Hector Lombard was set to Face Karo Parisyan, two very experienced and very skilled Judokas, at UFC 78. Lombard was unable to secure a work visa to enter the US. Lombard is a citizen of Cuba, that is currently living in Australia. 5oz. got word today that Lombard was officially off the card. PRIDE veteran Ryo Chonan, who holds a slick heel hook victory over current UFC middleweight Champion Anderson Silva, is set to replace Lomard against Karo Parisyan. Chonan was originally set to take on Thiago Alves. Chris Lytle has stepped up to fill the void. As of now, the UFC 78 fight cards looks like this:

Televised

Michael Bisping vs. Rashad Evans


Houston Alexander vs. Thiago Silva


Karo Parisyan vs. Ryo Chonan


Frank Edgar vs. Spencer Fisher


Ed Herman vs. Dave Terrell
Preliminary
Chris Lytle vs. Thiago Alves


Joe Lauzon vs. Jason Reinhardt


Tamdan McCrory vs. Akihiro Gono


Marcus Aurelio vs. Luke Caudillo
Labels: Akihiro Gono, BJ Penn, Hector Lombard, Houston Alexander, Joe Lauzon, Karo Parisyan, Michael Bisping, MMA, Rashad Evans, Ryo Chonan, Sean Sherk, UFC, UFC 78
.tanner - 0 comments - Post a Comment
---