---

1.17.2008 - 11:43:00 PM - Raw Vegas Video: MMA Fix at Randy Couture's Operation All-In
Dave Farra catches up to MMA fighters Randy Couture, Frank Trigg, Stephan Bonnar, Tyson Griffin, Gray Maynard and Gina Carano as they make their donations to Randy's Operation All-In, a charity fundraiser that raised more than $90,000 for the Xtreme Couture GI Foundation.


Labels: Frank Trigg, Gina Carrano, Gray Maynard, Interview, Randy Couture, Raw Vegas, Stephan Bonnar, Tyson Griffin, Videos
.tanner - 0 comments - Post a Comment
---
---

12.24.2007 - 1:18:00 PM - WORD=BORN: Mayhem Interview
ROFLCOPTER!@#




Labels: Interview, Mayhem Miller, MMA, Videos
.tanner - 0 comments - Post a Comment
---
---

11.25.2007 - 4:11:00 PM - Kenny Florian to fight in February or March
Kenny Florian (7-3, 6-2 UFC) is likely to return to the octagon in February or March according to an interview he did with Sam Caplan at CBSSports.com.


Q: Do you know when you'll be fighting next?

KF: Probably February or March. Based on what happens in the next two weeks, we've got some lightweight matches. Hopefully it will be a tough, top guy.

The interview didn't have any info on who a possible opponent may be but when asked about fighting the winner of Clay Guida and Roger Huerta he seemed to be all for it. That could very well set up a #1 contender's match for the winner of Sherk vs. Penn/Stevenson depending on how things unfold with Sherk over the next few months.

You can read the interview in its entirety here.

Labels: Interview, Kenny Florian, MMA, Rumors, UFC

.tanner - 0 comments - Post a Comment
---
---

11.09.2007 - 9:03:00 AM - Sean Sherk hearing postponed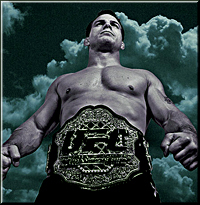 The Fight Network is reporting that Sean Sherk's appeal has been postponed again and this time until possibly December 4th. Here's what they had to say:


The California State Athletic Commission today confirmed the postponement of UFC lightweight champion Sean Sherk's Tuesday, Nov. 13 appeal hearing for a steroids-related suspension. CSAC associate governmental program analyst Bill Douglas cited scheduling conflicts as the reasons behind the delay. The hearing has not yet been rescheduled, though Douglas said a replacement date for Tuesday, Dec. 4 is likely. To hold a CSAC meeting, a quorum of five of the seven board members must be present
Sherk recently had an interview with MMA Weekly where he talked about the interim lightweight title and the appeal with the CSAC. Here's a little snippet of the article:


"It makes me real angry," said Sherk about the appeal process with the CSAC. "They had a lot of time to prepare for my case and they weren't prepared and now I'm the one suffering for it. I'm the only one suffering in this whole situation. I mean, I'm sitting here and I feel kind of helpless.

"I'm in the hands of the California commission and I don't know if they're not taking this case as serious as they should or what the deal is, but it's real, real frustrating for me."
He also had the following comments about the interim lightweight title:


"To be honest, even an interim title doesn't make me too happy," Sherk said emphatically. "This belt hasn't been taken away from me, it's still my belt. If I get cleared from my hearing to fight, I'm eligible to fight right now, so I don't think that the idea of an interim title... it doesn't make me too happy. I'll just have to fight whoever wins that fight."

"If somebody wants to wrap that belt around their waist and call themselves champion, I think it should be me. Otherwise, it's just a little fake belt."


Sherk's gone through a lot of shit to try and clear his name and I think i honestly believe he didn't knowingly take steroids but the simple fact of the matter is that he tested positive for steroids. If appeal causes the suspension to be lifted then yeah the interim title is stupid, but if he's found guilty and has to serve a years suspension then there should definately be a interim lightweight title, well Sherk should be stripped of the title anyways, but thats another point.




Labels: Interview, MMA, Sean Sherk, UFC
.tanner - 0 comments - Post a Comment
---
---

10.24.2007 - 10:51:00 AM - Brock Lesnar Interview
Here's a video interview MMA News did with Brock Lesnar after he announced that he signed with the UFC.


Labels: Brock Lesnar, Interview, MMA, UFC, Videos
.tanner - 0 comments - Post a Comment
---
---

10.17.2007 - 11:06:00 AM - Q&A With Former PRIDE Middleweight Champion Wanderlei Silva
Former PRIDE Middleweight champion Wanderlei Silva is set to make his return to the UFC at UFC 79. Rumors have been going around that there is still a possibility that he will fight Chuck Liddell at UFC 79.

MMAJunkie.com recently asked its readers to submit questions for Wanderlei. He recently had a Q&A session with Yahoo! Sports. When asked about a rematch with Rampage he answered the following question:


Q: Does your previous success in fights against the UFC light heavyweight champion Quentin "Rampage" Jackson make a potential title match with a fighter you've dominated extremely appealing to you? Finally, other than yourself, who would you list as the top five MMA fighters pound-for-pound in the world today?

WS: Yes, it's a very appealing fight to me. Because the two fights I had with him were good fights. And now he is the champ, so for me it will be a pleasure to fight him. I don't like him very much. So yes, it is an extremely appealing fight for me, because I would get to defeat him and win the belt.
I would say the top fighters pound-for-pound in the light heavyweight class are Shogun, Liddell and Lyoto Machida. Other fighters that I think are good are (Takanori) Gomi, (Gilbert) Melendez, Ninja (Murilo Rua) and Cyborg (Fedor Emelianenko).

When The Axe Murderer was asked about a possible fight with Shogun. He responded to the following question:


Q: Are you worried about receiving too many concussions and how that will effect you later in life? Are you still affiliated with Chute Boxe and Shogun Rua in any way or are you all separate now? Would you fight Shogun if the UFC asked?
WS: I have only one problem in my head, and that is that I
am only more hungry to win. I'm training very hard this time around, because I
need to give my next victory to my fans. I am not affiliated with Chute Boxe. We
are separated, because I wanted to start my own team. I don't want to fight
Shogun, because he is a good friend. I've trained with him for 10 years, so for
me that fight would be very hard. There are a lot of other light heavyweights I
could fight.
You can read the rest of the article over at Yahoo! Sports.

Labels: Interview, MMA, UFC, UFC 79, Wanderlei Silva, Yahoo Sports

.tanner - 0 comments - Post a Comment
---
---

- 10:13:00 AM - Brandon Vera Interview
Gary Herman of 15rounds.com has an interview with Brandon Vera available which talks about his issues with his management and what he expects out of the Tim Sylvia fight this coming Saturday at UFC 77. Brandon Vera didn't dodge any questions when it comes to the issues that have kept him out of the octagon for almost a year. "The Truth" last fought Frank Mir at UFC 65 this past November. Here's a little piece of what he had to say.


My ex-manager Mark Dionne was untruthful about some stuff with the UFC. He did not tell me everything the UFC saying. It made me not like the UFC for a time. It made me think the UFC did not care what I was doing. I felt disrespected, but none of what Dionne said was true. I ended up getting rid of (Dionne). I found out a lot of stuff Dionne did during arbitration. I got to tell him exactly how I felt without putting my hands on him and that was kind of cool. I felt relieved.


I'm really interested in seeing this fight. Will we see the same Brandon Vera? He hasn't been in the octagon in almost a year. He has said that he has been training the whole time but there's a big difference between training and fighting. He's been training with the current Light Heavyweight Champion Rampage Jackson at big bear with Juanito Ibarra. He is also a student of Lloyd Irvin who is one of the best Jiu Jitsu instructors in the country. Tim Sylvia is coming off a big loss to Randy Couture at UFC 68. He recently had back surgery and claims that he is 100% and ready to knock Brandon Vera out. It'll be interesting to see who shows up at these fights. The aggressive, intimidating Tim Sylvia, or the one that comes out to win but a decision. It'll also be interesting to see how Vera deals with the layoff, and we'll get to see if Vera is the real deal against a former champ in Tim Sylvia.

You can read the rest of the article here.

Labels: Brandon Vera, Interview, MMA, UFC, UFC 77

.tanner - 0 comments - Post a Comment
---