---

11.01.2007 - 10:59:00 AM - Time Magazine covering UFC vs Randy Couture
Time Magazine is covering the Randy Couture/UFC resignation. There isn't any new detail or any ground breaking shit, but atleast a media outlet as big as Time Magazine is covering the sport. Although this may not be the best of circumstances any press is better than no press. The article basically sums up what most people should know if they been around the last few weeks. But these guys aren't shy about taking digs at the UFC:

Now that facade is beginning to crumble. Liddell, who was recognizable enough to have an episode of HBO's Entourage focused on him, has lost two fights. Ortiz has been in an ongoing feud with White about contractual issues. ("Until Dana White is ready to fight me on a professional basis," said Ortiz at one point, "I strongly urge him to keep his mouth shut.") And now comes Couture's outbursts about money and White's counterattack. "At the end of the day we treat our fighters right," says White. "The whole thing makes no sense. I felt like I got kicked in the throat." This is one no-holds-barred battle that Ultimate Fighting doesn't want.
Touch of Gloves: Sam Caplan
Labels: Dana White, MMA, Randy Couture, Time Magazine, UFC
.tanner - 0 comments - Post a Comment
---
---

10.31.2007 - 11:02:00 AM - UFC Press Conference notes
Sam Caplan once again has a great article recapping the UFC press conference yesterday at his ProElite blog. Sam did an awesome job with the last one and this one is great too. Here's the sweetness:

According to Mulkey, Randy Couture received a $500,000 signing bonus, half of which ($250,000) was paid at the time of his signing the contract earlier this year. This clearly contradicts Couture's claim last week that he asked for a signing bonus and was declined.

Dana White explained that it was a true signing bonus in the sense that if Randy, given his age, was injured and couldn't compete, he'd still get his bonus. As such, they decided to meet his request for a signing bonus of $500,000 but withhold the other half ($250,000) until after his fight at UFC 68 vs. Tim Sylvia.

The UFC also claimed that Couture signed an employment agreement. The employment agreement paid Randy two annual salaries of $200,000 and $56,000. The $56,000 was clearly defined as being for his role with the company as a commentator while I believe the $200,000 was for his promotional role as an ambassador.

For UFC 68, Couture received a $250,000 purse in addition to the other half of his signing bonus ($250,000), according to the UFC. I believe Mulkey also said Couture received $936,000 as a bonus for PPV sales.

My understanding is that it takes three months for the UFC to receive their money from the cable company and then they have until 10 days after they receive their payment from the cable company to pay a fighter his PPV bonus. According to Mulkey, to date, Couture has received $924,000 of the $936,000 bonus.

According to the UFC, Randy's total take from UFC 68 was $1.086 million. However, it appears he's still owed $12,000 from the PPV bonus.


Fightlinker live blogged the presser.

UFC.com has their own recap available here. The funny thing is yesterday that article was different, i didn't read the whole thing and it also contained a link to the documents the UFC handed out. But it is no longer there. I saved it yesterday. You can view it here. Its in PDF format and you will need Adobe Reader to view it.

UFC.com also has archive footage of the presser.

Mr. Sunshine has tons of audio from the presser. He asked some great questions too. Some of the journalists out there asked some really stupid shit. Cofield went right after the UFC at the press conference and asked some really good questions. It's good to see there are some people that aren't complete idiots covering the sport.

As always MMA Junkie has a good recap.

Adam Swift at Sherdog takes a look at Zuffa's contract implications in regards to the Couture situation.

MMA Weekly has their own round up available here.

Labels: Dana White, Lorenzo Fertita, MMA, Press Conference, Randy Couture, Recaps/Thoughts, UFC

.tanner - 0 comments - Post a Comment
---
---

10.29.2007 - 10:32:00 PM - Another day another press conference


UFC.com released word that Lorenzo Fertita and Dana White are going to hold a press conference tomorrow afternoon at 4PM EST/1 PM PST. The press conference will be streamed live tomorrow at UFC.com. The post is on the front page and here's what it says:


Dana White, UFC President and Lorenzo Fertitta, UFC co-owner will hold a press conference Tuesday, October 30th, to address recent statements made by Randy Couture, and answer questions for the media. The press conference will be streamed live via UFC.com starting at 1pm PT/4pm ET/20:00 GMT.


Yahoo! Sports is also going to be streaming the event live at 4 PM EST/1 PM PST.

Labels: Dana White, Lorenzo Fertita, MMA, Press Conference, UFC

.tanner - 0 comments - Post a Comment
---
---

10.26.2007 - 11:45:00 AM - UFC Presser recap
The UFC held a press conference yesterday to announce the deal between SpikeTV and the UFC. They also had Brock Lesnar, Dana White, Chuck Liddell, and Wanderlei Silva available for comment. Sam Caplan has the best transcript from the conference call available in my opinion. Here's the skinny on the SpikeTV deal:

The deal includes five additional seasons of The Ultimate Fighter (26 episodes will be produced in 2008 and 26 more episodes in 2009 with one season due in 2010) and 12 live telecasts over the course of the four-year contract.

As a part of the agreement, a new live fight series will debut in 2010 and will air in 2011. It sounds as though this new fight series will be replacing The Ultimate Fighter reality television show. There weren't many details provided in regard to the new concept other than to state that it will be a live fight series and will involve a caliber of fighter at least one level above what appears on TUF on average each season.
Dana White on when BJ Penn will fight:

White did not confirm that B.J. Penn will be fighting Joe Stevenson at UFC 79 on Dec. 29 but did say that he thinks it will happen on that card. Although, he added that he wasn't sure.
Dana White on the Andrei Arlovski:

White was asked about Andrei Arlovski by a Chicago reporter. Dana said that Arlovski is "on the bench right now" and that he wants Arlovski to fight. He then alluded to contract issues but the reporter said his impression from Arlovski's camp is that he wants to fight and is waiting for an offer. Dana acted surprise. He said if Arlovski wants to talk then he's willing to fly to Chicago "tomorrow." The reporter asked Dana if the UFC was unhappy with Arlovski and Dana said no but then he said Arlovski's last fight for the promotion was boring.
To catch the rest of Sam's recap head on over to his blog at ProElite.com

Fightlinker probably has the best live blog for the presser out there. That dude is hilarious.

You can still listen to the entire conference call at Yahoo!

Mr. Sunshine also has tons of audio clips available from yesterday's presser.

Labels: Dana White, MMA, Press Conference, Randy Couture, Sam Caplan, SpikeTV, UFC

.tanner - 0 comments - Post a Comment
---
---

10.25.2007 - 12:43:00 PM - UFC and Randy Couture to hold press conferences today
Randy Couture's management released the Following Press Release a few days ago:


LAS VEGAS, NEVADA - THURSDAY, OCTOBER 25th - MMA Legend Randy Couture will hold a national press conference at Xtreme Couture Martial Arts to address his reasons for resigning from the Ultimate Fighting Championship (UFC) in every capacity. Randy will respond to the comments made by UFC President Dana White. Additionally, Randy will respond to Yahoo! Sports report that he makes between $3.25 million - $3.75 million per fight, which they continue to stand behind.

Afterwards, Randy will make himself available to answer questions concerning his relationship with the UFC, future plans, MMA as a sport or anything else pertaining to his resignation.
According to Sam Caplan ProElite.com will have live coverage of the press conference starting at 4:30 PM EST. Registration is free at ProElite.com so if you wanna check it out head on over. I have a profile there, you can find me at http://thirdseal.proelite.com/

Yesterday 5 Oz. broke word that the UFC would be holding a conference call to announce a new television deal. Details are not known at this time if the TV deal is an extension with SpikeTV or if its a venture with a completely different TV outlet.

Brock Lesnar, Wanderlei Silva, Chuck Liddell, and Dana White are all supposed to be available at the conference to field questions.

The UFC scheduled the conference call for 4PM EST, only 30 minutes before Randy's presser. This is definately not a coincidence and was likely done to make the press choose between one or the other.

Yahoo! is going to stream the UFC conference call here.

As soon as more details break about the TV deal and what was said at both pressers more information will be posted.

Labels: Dana White, MMA, Press Conference, Randy Couture, TV Deal, UFC

.tanner - 0 comments - Post a Comment
---
---

10.23.2007 - 4:00:00 PM - Dana White to announce Wanderlei Silva's first opponent tonight
Pramit Mohapatra of the Baltimore Sun got word from the UFC that Dana White will be appearing at the SpikeTV scream awards tonight to announce Wanderlei Silvas first opponent.

The scream awards kick off tonight at 10PM EST, following the show "25 tuffest moments of all time" which delves into the 25 most entertaining moments in The Ultimate Fighter history which starts at 8PM EST.
Labels: Announcements, Dana White, UFC 79, Wanderlei Silva
.tanner - 0 comments - Post a Comment
---
---

10.19.2007 - 9:53:00 PM - UFC 77 Video: Dana White talks to ESPN about Couture's resignation
Again thanks goes to 5 Oz. on this one as well. Here's Dana White on ESPN commenting about Randy Couture's resignation.


Labels: Dana White, MMA, Randy Couture, UFC, UFC 77
.tanner - 0 comments - Post a Comment
---
---

- 9:28:00 AM - Couture's agent responds to Yahoo! Sports article
The war of words keeps continuing. At this point I think that both sides need to sit down and work this out, but as reported earlier Randy isn't returning the UFC's phone calls. Adam Swift of Sherdog.com had an interview with Randy Couture's agent Matt Walker. He had this to say about Yahoo! Sports report that Randy was making $13-$15 million for a four fight contract:


"When I first read the story on Yahoo! I actually laughed because they are so far from fact," said Walker.

"If he were getting $3.25-$3.75 million a fight then Randy's compensation would not be an issue," said the agent, who was lambasted by White as a Hollywood parasite after Couture announced his resignation on Oct. 11. "However, I can tell you those salary numbers for Randy are severely inflated and I would love to know where they got the information."
So it looks like Kevin Iole's NON-UFC sources were full of shit. Now I understand he's a good writer an all that but I wonder if I'm the only one that is growing to dislike this guy more and more.

Read the rest of the article over at Sherdog.com

Labels: Dana White, MMA, Randy Couture, UFC

.tanner - 0 comments - Post a Comment
---
---

- 8:47:00 AM - More Dana White Comments on Randy Couture
Steve Cofield aka Mr. Sunshine recently attended a prefight post conference for UFC 77 where Dana White made the comment that he has yet to speak to Randy Couture and that he hasn't returned their phone calls.


"I haven't talked to (Couture) at all. I called him twice since he's been in South Africa and he hasn't returned a call. His resignation didn't surprise me at all. It's the way he did that surprised me. It was done very Hollywood with his agent releasing a statement. This is the way Hollywood agents play this stuff. The whole thing was pretty shitty. He's up to something."

"He lost twice to Chuck Liddell. And then he called me up after a year and said I want to come out of retirement…I'd like to re-work my contract. He just signed a contract that he was thrilled with eight months ago. He never came to me and said can we do a new contract!"
Dana White also had this to say about the UFC event in Montreal set for January"


"We had to cancel the Canada date. That was supposed to be the first HBO date."
You can read the rest of Mr. Sunshine's article here.

Here's a look at Randy on the set of the new Scorpion King flick.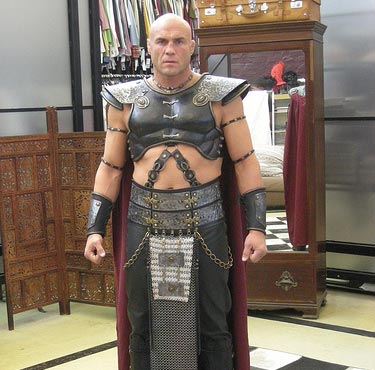 Here's a video of Dana White talking at the Press Conference:



Labels: Dana White, MMA, Mr. Sunshine, Randy Couture, UFC

.tanner - 0 comments - Post a Comment
---